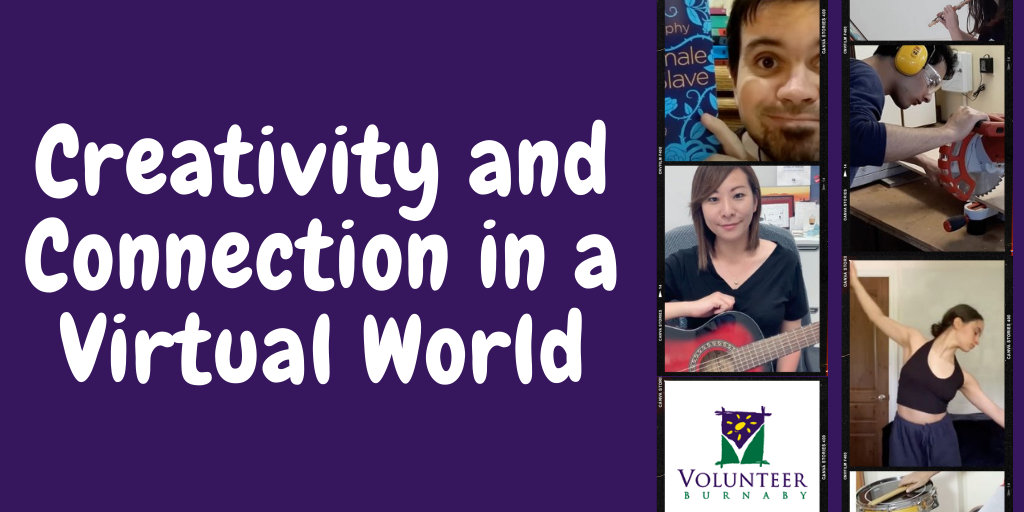 Read Time:
4 Minute, 12 Second
Ce blogue est disponible en anglais seulement. In what felt like the blink of an eye we watched the ways that our communities connect, communicate, function, and see the world change as Covid-19 took everyone by storm. We saw a need for developing a safe and secure virtual position to help connect volunteers back to their community. As a result, we developed the Volunteer Burnaby Virtual Series – a collection of webinars, tutorials, and performances recorded by Burnaby's volunteers. These videos are shared with our online audience on Facebook, Instagram, Twitter, and YouTube. With over 60 volunteers contributing over 500 hours of their time, the Virtual Series project has grown to reflect the diversity of our community as we have watched individuals from all backgrounds and walks of life give their time and creative talents.
It has been almost two years since schools, businesses, and organizations first met the struggle to adapt to a pandemic lifestyle and all its challenges. However, after over a year of re-organizing and adapting, brainstorming, and working together, the collective effort made by volunteers to help one another has been inspiring to watch.
In 2020, I worked to join these efforts and set out to design a program that would bring some light to an otherwise isolating and dark situation. As a result, the Volunteer Burnaby Virtual Series was born and the benefits of managing this program far outweighed my expectations.
One of the unfortunate side effects of the pandemic was the lack of available in person volunteer roles. We watched as one by one new health orders and lockdowns were implemented and the safety associated with working with a group of people was stripped away. Luckily, many organizations were able to adapt and create safe ways of handling volunteers. New volunteer positions also became available that focused on Covid-19 relief efforts, but regardless there was still a need for volunteer positions that were safe, secure, and completely removed the risk of becoming sick. For seniors, youth, and those who were immunocompromised, it became clear to me that Volunteer Burnaby had to do its part in keeping our community members engaged while ensuring that our volunteers are safe.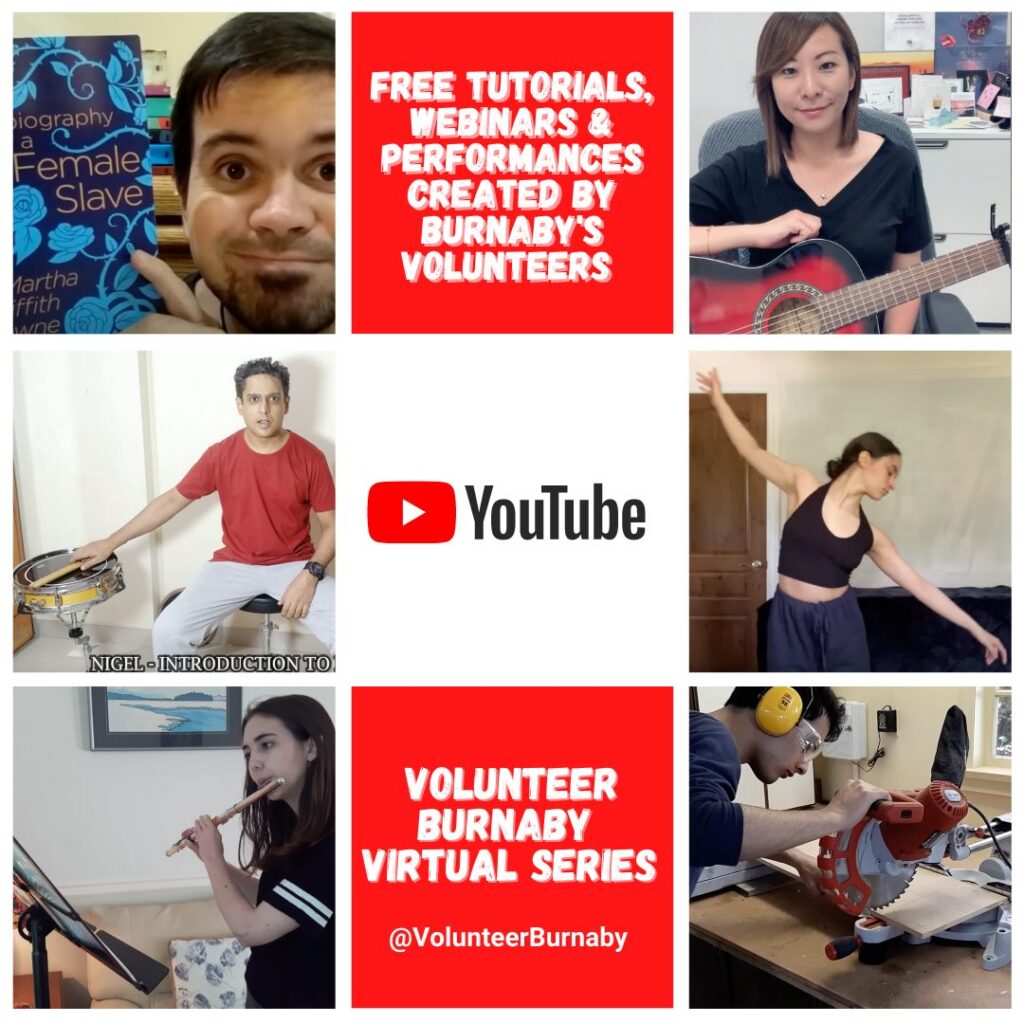 We began to trek into unfamiliar territory – the virtual realm. Our organization has been around since 1972, which means that we have done a lot of work face to face, to put it lightly. Being able to connect with volunteers and organizations in person has been something that the organization has prided itself on and so to run a program completely virtual was a bit of a daunting task. There are a series of questions that one asks themselves before starting a virtual program… "Will this receive views?", "will people want to participate?" and "what will this experience look like" are among the many I asked myself prior to developing the model for this project. One of the many reasons I have enjoyed my time at Volunteer Burnaby is their admiration for diversity and creativity – it only seemed fitting that these values were reflected in our first virtual program.
And so off it began! We asked Burnaby and New Westminster's volunteers to film themselves and send us a webinar, performance, or tutorial of their choosing for us to share with our community online through Facebook, Instagram, Twitter, and YouTube. We capped the submissions at 10 minutes maximum in length, and our only limitation when it came to topic choice – keep it appropriate for all ages. From its initial launch, the submissions came pouring in. I was thrilled to see individuals from all different backgrounds, genders, and ages send in their videos for us to watch – I truly felt as though I had a front row seat to the largest and most diverse talent show I had ever seen. The diversity in submissions seemed endless. Volunteers sent in webinars, performances, and tutorials focusing on an array of topics. Classical music, arts, computer science, culinary arts, DIY projects, vlogs, mental health, veterinary sciences, audiobooks, language classes, meditation, trade skills, and financial advice are just a few to name!
From April 2020 to April 2021, we accepted submissions from 68 volunteers who contributed over 500 hours to the Volunteer Burnaby Virtual Series where we published a total 73 videos. We received a strong level of support from our local politicians as we published a musical performance sent to us by Burnaby-Lougheed MLA and Minister of State of Child Care Hon. Katrina Chen. We also had the support of Burnaby Mayor Mike Hurley and our City Council who helped us announce updates for the project and the winners of our Virtual Series Video Contest. This contest was sponsored by Walmart Community Grants and gave our volunteers the chance to win one of three Walmart gift cards.
It had become clear to me that the volunteers involved enjoyed the process of this project just as much as I did. Many of our volunteers also submitted multiple videos, which led to the creation of their own mini-series.